People Directory web part settings for modern pages
The People Directory web part provides functionality to quickly lookup users and their contact information. The results are displayed within the web part.
All configuration is done in the web part settings.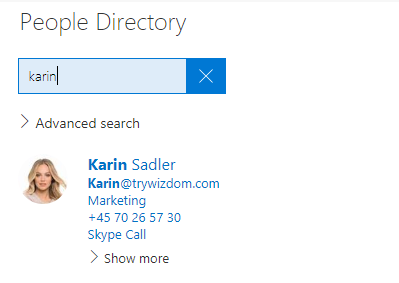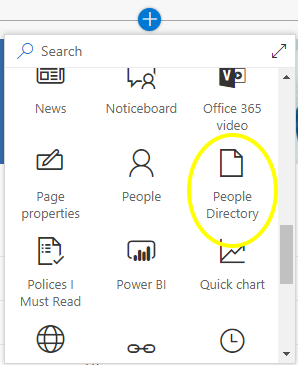 Once placed on a page, you can configure the 'People Directory' web part by clicking the pencil icon to the left of the web part.
In the settings panel to the right, you configure the web part settings.
Under Design, you configure the styling of the web part frame and title. Title lets you write a custom title for the web part.
In Chrometype, you define whether you want to hide or make visible the title and frame of the web part.
If the chrome type is visual, you can choose whether to display the web part title.
Image lets you upload an image as the background of the web part frame.
Webpart class lets you insert a specific webpart class name.
Webpart border "Shown" makes the webpart border appear on the page.
Webpart padding "Disabled" is default. To add webpart padding, click "Enabled".
Under Properties, Template lets you select a template for the web part.
Choose the Normal template if your People Directory webpart is inserted on a Modern Page and "Service Menu" only if you configure it for use in the Wizdom Servicemenu.
Set the number of maximum search results users will see per page.