Overview of the Wizdom Product
The Wizdom product is an application that offers extensive features for your digital workplace. In this article, we provide you with an overview of the application and it's components.
Boiled down, Wizdom is an application that offers components to build and brand a digital workplace on top of SharePoint that is seamlessly integrated with your Office 365. When using the Wizdom app on a site collection, you are provided with an administration interface from which you have access to features and functions that you can set up and add to your digital workplace.
For example, Wizdom enables you to set up a customized news system for your organization, to provide users with quicklinks to relevant resources, to manage company guidelines in handbooks, administer projects in project collaboration spaces, brand the entire digital workplace, provide admins and editors with CMS tools, and much more.
In this way, Wizdom allows you to create a hub for communication, collaboration, and productivity that answers the needs of your organization.
Wizdom digital workplace seamlessly integrated with Office 365
Wizdom uses the SharePoint add-in Framework to richly integrate with SharePoint as well as the rest of Office 365. This offers admins and editors a seamless experience when moving around in the digital workplace.
Since Wizdom is fully integrated into SharePoint, it can be tricky to spot which parts of the software is Wizdom. Most of Wizdom's functionality resides in modules and are displayed on intranet web pages by the means of web parts.
Wizdom's web parts can be found in the folder 'Wizdom' in SharePoint's web part gallery. As you can use all the standard SharePoint features alongside Wizdom's own app, the techniques for adding Wizdom's web parts are the same as for SharePoint's functionality.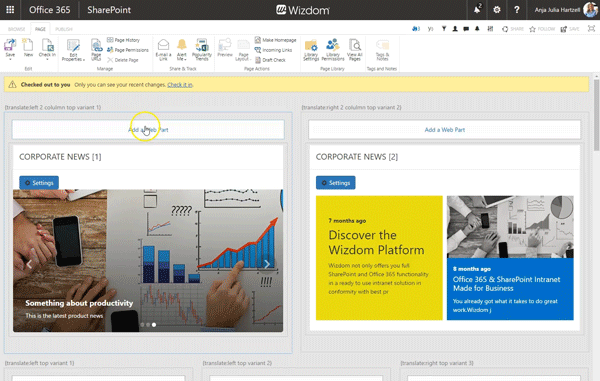 Wizdom modules in SharePoint.
Wizdom provides over 50 modules that offer a broad variety of features for your digital workplace. Each module have its own configurations settings.
Wizdom Intranet Components include the whole spectrum of intranet features from news, people directory, quicklinks, menus, and polls to projects and language support that strengthens communication, collaboration and knowledge sharing across departments.
Wizdom Business Applications offer modules as the Learning & Events and Service Desk module that are designed to handle a range of business processes.
Wizdom Visual Design & Branding module allows branding of the Wizdom application and ensures that all corners of your digital workplace reflects the visual design you choose.
Responsive Design renders all features of your digital workplace on Office 365 and SharePoint responsive and ensures access to the full intranet at any place from any device.
CMS Functionality makes it simple and smooth for admins and editors to add and create any type of content.
Wizdom Configuration Center provides an overview of your intranet solution and features a range of setup tools that make it easy to manage and customize your intranet solution.
Wizdom Extensibility provides a framework to code and construct your own apps to use in your SharePoint solution.