Introduction to the Corporate News module
User interface of the Corporate News module
Corporate News is a module to present edited news, typically with the organization as sender.
These types of news are characterized by being thoroughly prepared, by representing communication from few to many, and by a fixed, aesthetic layout.
The module includes refined content publication functionality that allow content creators to easily broadcast engaging corporate messages.
News are built in page templates and can be managed through approval flows and scheduled publishing. The page templates enable use of stimulating rich media such as images and video and allow content creators to include all SharePoint and Wizdom web parts.
Page templates for Corporate News pages. 
Tools to display relevant content and contact person are included in all news page templates.
Editors can choose to highlight corporate news in picture sliders to grab staff attention. Also, social features as like and comment can be enabled to engage staff in your company's corporate news.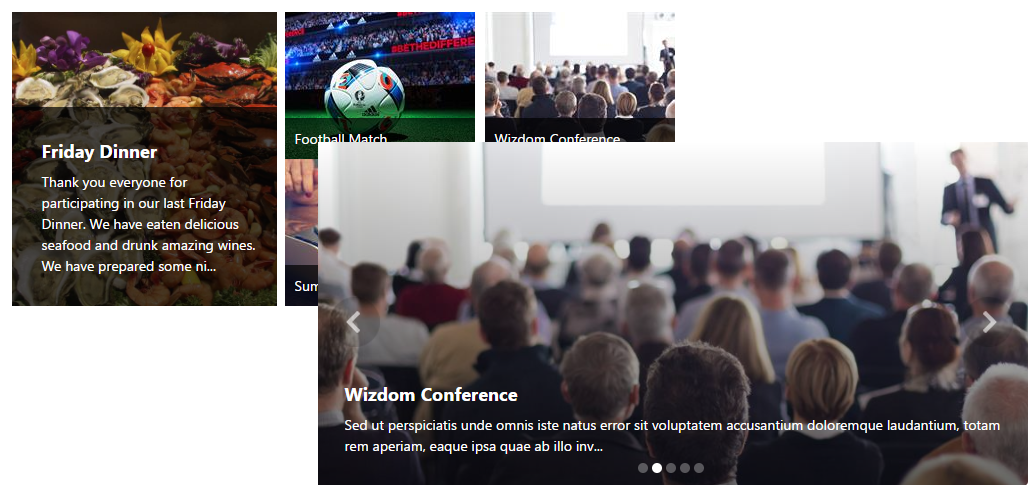 Example of picture sliders available for corporate news. Developers can create own templates for displaying corporate news by the means of templates.
The Corporate News module includes an archive that lets users search for news. Search refiners as author and news date help users find specific news.
Elements of the Corporate News module
The Corporate News module includes the following elements:
A site template containing all the elements for news publication.
Three page layouts designed for news publishing.
A web part to highlight Corporate News on pages.
An archive where users can see a list of all news created on the site and find specific news by search and filtering.
When you set up Corporate News on your intranet, you initiate by creating a subsite for news publishing with the corporate news site template. From this site, editors can choose from built-in page layouts to create and edit publishing article pages.
You can create multiple corporate news sites on your intranet. E.g. if you want separate news sites for different offices or departments.
To highlight corporate news, you use the Corporate News web part. This web part displays selected news on pages by the means of engaging media. E.g. you can place the corporate news web part on a front page to bring attention to newly published news.
The news archive is created as a page under the Corporate News site as part of the Corporate News site creation process. This page will display all news created on the Corporate News site and enable users to find specific news from the site by search.