Policies & Procedures analytics report
Accessing the Compliance report
The Policies and Procedures module is commonly used to make sure that mandatory documents are read by employees among the organization. 
With support from the reporting tool for the Policies and Procedures module, administrators can get an overview of all pages and track whether employees have read the mandatory documents or not. The Compliance report can be found in Wizdom's Configuration Center in 'Policies and Procedures' under the 'Admin' tab, making the access limited to intranet administrators only.
How to start tracking activity
In order to get all the analytics functions up and running and making the most out of the Policies and Procedures module there are several steps that must be followed:
Whenever you create a new site collection there are certain steps that must be completed. Locate the web page in the intranet and, as an administrator, click the 'Share site' button in the top right corner and add the user called "Search User". All intranet users with Wizdom set up correctly will be able to find and add "Search User". Once added, the Compliance report can be accessed from the Configuration Center.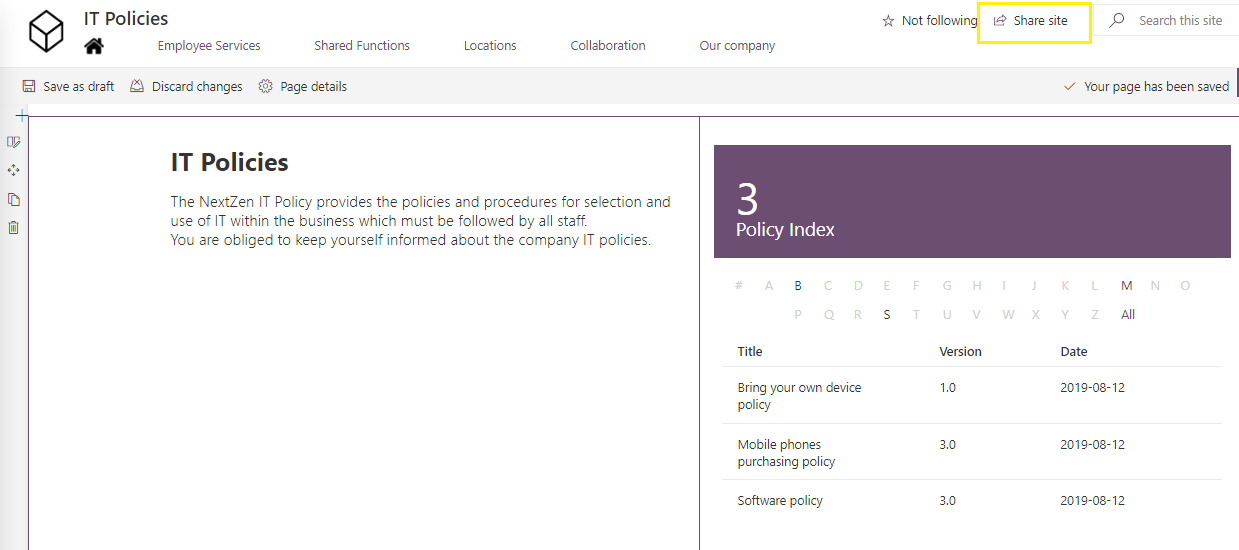 Features of the Compliance report
The Compliance report shows the Policies & Procedures instance of the page in question, the name of the page, the version of the page, when the page was last modified, the number of employees for whom the page is mandatory read, and how many of these employees that have not yet read the latest major version of this page.
Employees who have not yet completed the mandatory readings will be visible to the administrator, so he or she can send out reminders if necessary.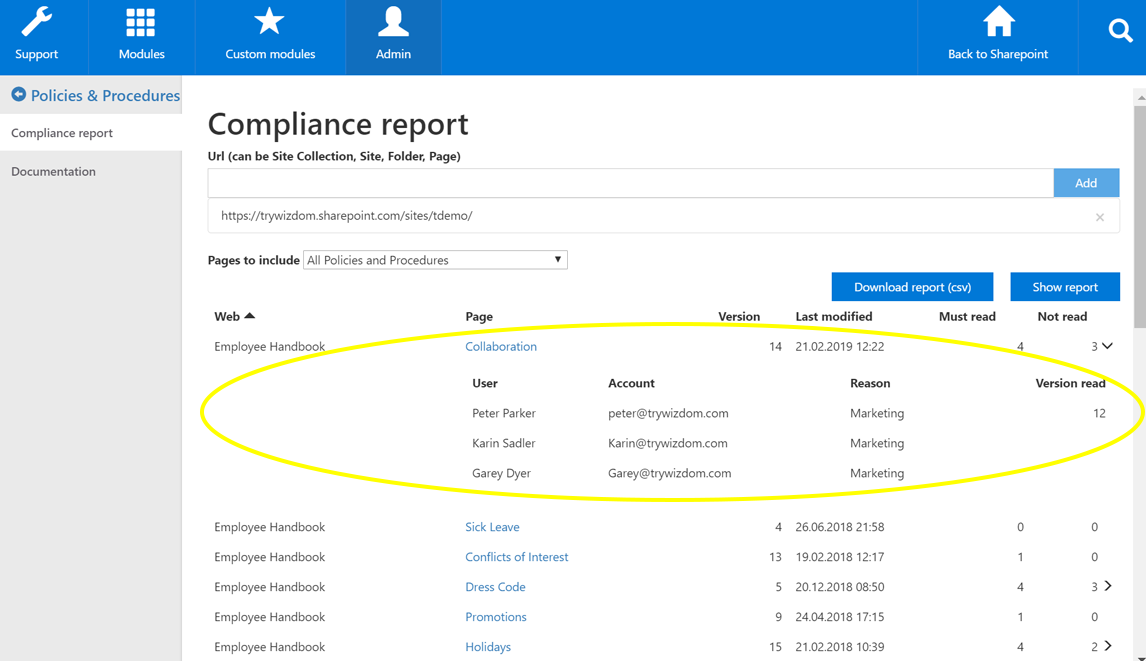 'All Policies and Procedures' which will show results from all Policies & Procedures pages from the web location where the reporting tool is set up to search.
'Policies and Procedures with requires readers' which will display pages, from the web location the reporting tool searches in, that are mandatory to read for one or more employees.
'Policies and Procedures with missing readers' which will show only pages, from the web location that is searched in, that are mandatory for users that have not read the latest major version of these pages yet.
Once you have filtered down to the report you need, the current view can be downloaded as a CSV file to e.g. be send in an email or stored.