Introduction to the Power Panel module
You probably know it from your own work life. Various software applications are available to help you with different tasks in the course of your day. The Office 365 application suite alone includes more than 20 different applications and, added to this, SaaS applications like Salesforce, Workday, ServiceNow, and Trello forms a fragmented corporate application landscape of different systems the user has to find and visit to be able to perform and keep up.
It's a tendency in our current time called application overload. And – as it's cousin, information overload – it poses a real and growing threat to productivity.
Wizdom Power Panel brings in a personalized and intelligent overview of content across all systems
Breaking the silos between applications and delivering the ONE corporate dashboard you need to visit to keep up and get work done.
Wizdom Power Panel is a dashboard framework. Web parts are the components.
By presenting content and functions in widgets, the Power Panel can bring in any kind of functionality to the intranet.
Intranet admins can design the dashboard using the components that add the most value to the business. Perhaps you work in a project driven organization, and employees will benefit greatly from having project spaces or project KPI's readily available from the Power Panel. Perhaps staff consults with company procedures to perform daily tasks and having these at their fingertips will improve productivity. Possibly people engaged in sales and marketing will find help in having numbers and functions from systems like Salesforce available from the Power Panel.
As an open framework, Wizdom Power Panel offers you to build and design a corporate dashboard that complies to company needs.
NOTE: All Wizdom and most of SharePoint's web parts are supported. However, to include data and functions from systems outside of SharePoint, like e.g. Salesforce, this requires a custom developed web part.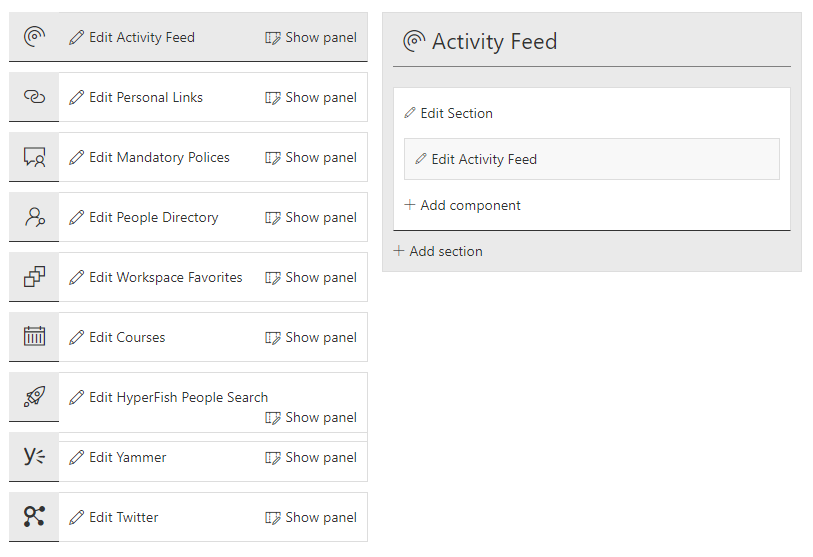 Personalized view
Benefiting from Wizdom's audience targeting mechanism, content in the Power Panel can be targeted to AD groups and groups you've set up using Wizdom Audience targeting module. This enables you to deliver a personalized experience to every user. Making readily available the functions and content each employee needs to get work done.
If you're in, you're on
The Power Panel is omnipresent in SharePoint. Globally available from the left side of each page of your SharePoint intranet, users have the links, tools, and functions in the Power Panel at hand from everywhere once they've logged on to the intranet.